Today's web inspiration comes from a new acquisition of mine: a silhouette cameo.  If you haven't heard of the silhouette yet, you are in for a treat.  The silhouette is a mix between a printer and a die cutting machine.  It works with your computer to cut out pretty much whatever shapes you want.  They do have pre-designed shapes you can use, but you can also design your own.  I have a few special posts coming up this weekend about my first uses of the silhouette machine.
In the meantime, here are some inspiring projects to show the variety of creative things you can make!
Handmade by Paula: Mini Greeting Cards
Aren't these cards just adorable?  Changing the color and the greeting is such a simple way to add variety to a note card pack. I also really like the matching envelopes.  So pretty!
Mouse Pad Makeover
This mouse pad is so effective and easy to do.  She just used the silhouette to cut the fabric to size and then adhered it to the old mouse pad.  Awesome!
Silhouette Decorative Wall Border
This wall border made from vinyl would look really cute in a child's room.  I would imaging you would want to keep the flower flat though, as kids tend to grab at things and I bet these flowers are just the right height for pulling!
Cupcake Project: Cupcake Wrappers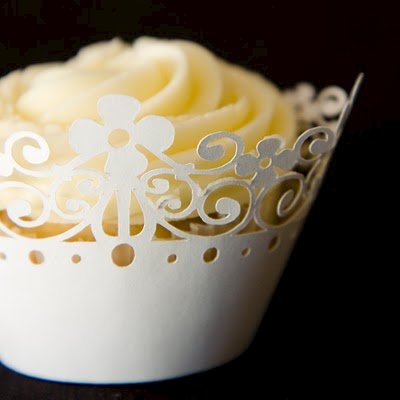 There are so many really awesome paper wrappers for cupcakes, and all sorts of holiday ones as well.  I can't wait until I can find an excuse to make some cupcakes and pretty them up!
Ok, so this is something I really want to do.  The Silhouette can work with any installed font on your computer.  Yes, you read that right, any.  The idea of labeling jars like this is such a simple thing to do and really looks good.  Plus, it would make it easier to tell the difference between bread flour and regular flour.  Awesome!
The Silhouette also cuts fabric.  There are kits to dye fabric, cut stencils, set rhinestones, land etch glass.  If you want to see some more inspirational silhouette projects, check out my pinterest board here!  I'll keep adding things as I come across them, as you do with pinterest.
Look forward to my own silhouette projects soon!
I like to link up
here
.
Affiliate links help me keep this blog running. Thanks for using them!
All opinions expressed on this blog are always my own.