I figured that since I'm on a roll with finding patterns that I would switch to sewing patterns this week.  I might even do embroidery next week, oh my!  When picking out patterns, I like to stick to things that are structured, have a bit of a masculine inspiration to them, and I never where skirts or dresses.  There are only two exceptions to that rule: I occasionally wear dresses to weddings, but have begun avoiding that because I find it so uncomfortable, and I will wear a skirt over trousers for steampunk garb.  So those are the types of things that you can expect to find in patterns that I pick out.  I also like things that are a little different and not quite mainstream.  Call it a rebellious streak, but it is what it is.  I figured for a bit of a twist, I would try to put an outfit together based on the current pins in my sewing board.  Here's what I came up with!
Everywear Tails: Free
For today's inspiration, I wanted to start with this pattern.  It is one of my favorites.  It comes from a British based site, Your Style Rocks, where they feature patterns made by their readers.  I have made it before and lined it so it was reversible.  That probably wasn't the best decision as it made the vest super bulky.  It didn't help that I was using upholstery fabric and wool for the two sides!  I'd like to make it again, but not quite as bulky this time.  With the right fabric, it would be perfect for those few occasions where I dress up.  While I really like the brown, I would make a slate blue for the imaginary outfit I'm currently considering.
Kimono Tabbard Shirt: £4.95
I think this loose shirt from Ralph Pink Patterns would pair well with the waistcoat above.  The straight neck -line doesn't clash too much with the collar of the vest.  Depending on the season, I might modify the sleeves so that they were long sleeve though.  A collared shirt or non-button up could work as well, but I think I would keep it white as a light pop to the whole ensemble.  That way it wouldn't take too much attention.  
Basic Pant: Free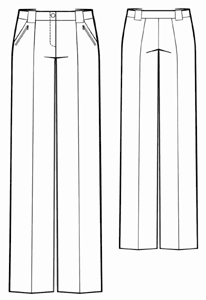 Since I don't wear skirt or dresses, a pant is a must.  Thankfully Modern Sewing Patterns has a nice basic pant that will pair with almost anything I wear!  I have made pants before, and it's really important that you pay careful attention to your measurements.  It may take a few botched pairs if you aren't super careful, but once you have a nice go to pattern, you'll be set!  Then you can make them in whatever color you want!  For this outfit, a nice dark grey would work well.
Melford Messanger Bag: $8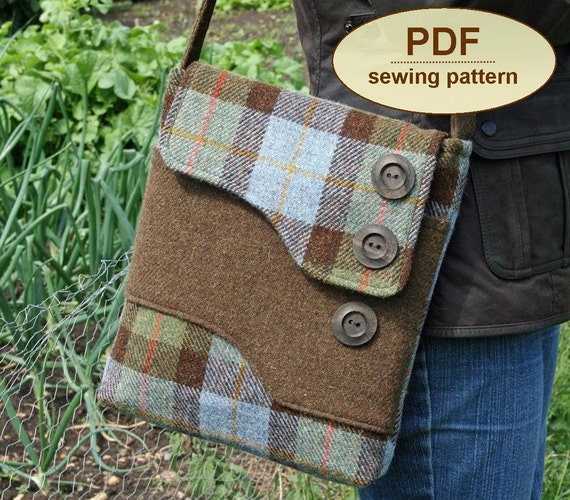 I'm not much of a purse person, but I do travel quite a bit.  I also have to drag things too and from the lab on campus as well, particularly my Surface Pro.  And this bag fits the bill for that just great.  I love the vintage look of this bag by Charlie's Aunt, and the plaid and brown wool give it just the right tone.  I have also made this pattern, though I altered it to have a central pocket divider in the main compartment.  The front pocket also has a zippered section and several separated pencil spots.  I plan to make it again, but just a tad deeper, with a larger flap for the top, and a second magnetic closure for a bit better security.  For this particular pretend outfit, I would make the bag either in a similar blue plaid or a green much like the one in the picture here with a grey pocket.
Newsboy Cap: Free
To 'top' it all off, I'd add a wool newsboy cap.  This pattern from Clevergirl.org is meant for a kid, but I could probably size it up just a bit.  I think the colors here would go just great with the slate blue, dark grey, white, and pop of green.
Using the magic of Photoshop and my awesome box and oval drawing skills, here is a look at the color scheme I would use.
There you have it.  A whole outfit put together from the patterns on my current pinterest board.  If you are interested in seeing more clothing patterns, visit my pattern board.  You can also check out my sewing projects board, which has projects other than clothes, or take another perusal through my scrap fabric board.
And now I know what my next clothing projects will be!  I promise that I'll share the results with you when I eventually get around to them, though I can't promise that will be any time soon.  Oh yeah, and I need to find a reason to wear this, though I guess it would make a great first day of class impression!
What clothing projects do you have on the horizon?
I like to link up
here
.
Affiliate links help me keep this blog running. Thanks for using them!
All opinions expressed on this blog are always my own.